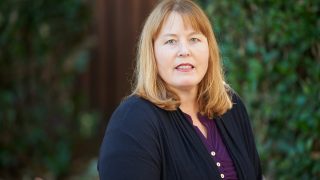 Lynn Dremann is an Accounting Associate at Animal Legal Defense Fund. She is responsible for the processing, entry, and maintenance of revenue and expense transactions and the support of the other accounting staff. She received her Bachelors Degree from Sonoma State University in Business Administration with a focus on Accounting. Lynn loves working with numbers and detailed accounting work.
Lynn chooses to work at the Animal Legal Defense Fund because the organization has a mission that is close to her heart and it's something that she believes in. She loves animals and likes that by working her she is giving administrative support to attorneys who fight against animal cruelty.
Outside of work Lynn loves walking hiking reading and water aerobics. She has even run the Nike Women's Marathon in San Francisco. She and her husband, Michael own a steel fabrication company and have been married for 26 years. The couple has three furry children; two cats that are sisters named Snicker and Doodle, and an Australian shepherd named Ladybug.