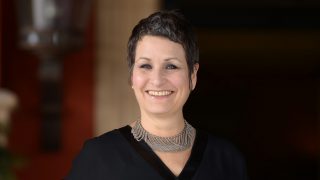 Kristin Lauhn-Jensen
Director of Development
As Director of Development Kristin collaborates with all other departments to develop strategies to generate revenue and build relationships that will further the Animal Legal Defense Fund's mission.
Motivated to create a better life for all non-human creatures, for the last 20 years Kristin has led fundraising efforts for nonprofit organizations across Canada and in Europe, raising over 100 million dollars to protect the environment and animals. 
A graduate of the University of Manitoba with a Bachelor of Laws in political science, Kristin has lived in the United Kingdom, Switzerland and Uganda, where she spent a year working to support the conservation of the endangered mountain gorilla. She now lives in Winnipeg, Canada, with her rescued Jack Russell Terrier mix Boo and her mom.