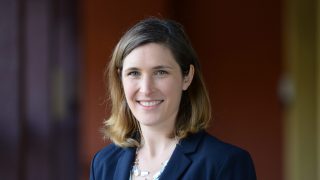 Kelsey Eberly assists Animal Legal Defense Fund with its cases and projects. She graduated from UCLA Law School in May 2014, where she focused on animal, environmental, and administrative law. While attending law school, Kelsey was the chair of the UCLA Animal Law Society—that school's Animal Legal Defense Fund Student Chapter. She was also a writing advisor to first year law students in UCLA's Lawyering Skills clinical program. Prior to this, she earned a graduate certificate in Animal Policy and Advocacy from Humane Society University. In 2006, she received a bachelor's degree magna cum laude from Middlebury College, with a double major in English and Spanish.
Kelsey is a former clerk for Animal Legal Defense Fund and before that served as a legal intern with Compassion Over Killing. She has concentrated her academic study on the abuse of factory farmed animals and is interested in the international trade of exotic animals, the free speech rights of animal advocates, and the humane management of urban wildlife.
Kelsey enjoys running, vegan cooking, fostering kittens, and observing beautiful underwater creatures while scuba diving.