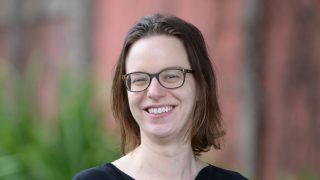 Katherine Stirling joined the Animal Legal Defense Fund board in 2018. Katherine has spent her professional career in journalism. She has worked as an editor for The New Yorker, Vanity Fair, and the Wall Street Journal, and believes in the power of storytelling to inspire and effect change. Katherine believes that practicing good journalism includes achieving understanding through dogged investigation, sensitive analysis, and responsible interpretation.
The Animal Legal Defense Fund's approach to protecting the interests of animals drew Katherine to the Board. Using a combination of pragmatism and compassion, along with leveraging and working creatively within our existing legal system to safeguard the lives of animals who are unable to advocate for themselves spoke to Katherine.
As a board member, Katherine is most proud of supporting the organization's work striking down Ag-Gag laws. This work means that systematically cruel practices can no longer be effectively hidden from public view. Katherine states that this is a crucial first step to broader public understanding of the ways everyday decisions contribute to animal cruelty.
Based in New York City, Katherine shares her home with Sasha, a cattle dog mix who enjoys exploring Central Park. In her spare time Katherine enjoys spending time with her friends, and her family and their dogs, hiking, museum-going, exploring natural spaces near and far, and anything that exposes her to new perspectives.