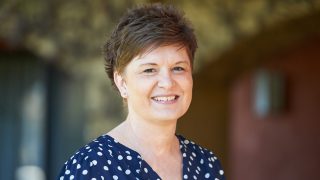 Jamie is a Senior Staff Attorney with the Criminal Justice Program.  In that role, she provides expert assistance and training to prosecutors, law enforcement officers, and other stakeholders on all aspects of criminal prosecutions involving animal cruelty.  She also trains judges on issues involving animals as victims and the link between animal cruelty and human violence, in connection with the Animal Legal Defense Fund's partnership with the National Council of Juvenile and Family Court Judges.
Before joining the Animal Legal Defense Fund, Jamie spent nearly 15 years as an Assistant Attorney General at the Oregon Department of Justice, primarily in the Appellate Division.  Over the years, she worked on hundreds of criminal appeals in the Oregon appellate courts, and filed a brief in the United States Supreme Court.  She represented the state in several groundbreaking animal law cases, including State v. Nix, in which the Oregon Supreme Court held that animals are the victims of animal cruelty, and State v. Newcomb, in which the Oregon Supreme Court held that the owner of a dog seized on suspicion of animal neglect had no protected privacy interest in the dog's condition.  For her work in State v. Nix, Animal Legal Defense Fund named Jamie one of America's Top Ten Animal Defenders, as part of 2011's National Justice for Animals Week.
Jamie and her husband share their home near Portland, Oregon, with six rescued animals:  cats Inky and Ruby, Cooper the pit bull, umbrella cockatoos Tootsie and Lily, and a blind African Grey parrot named Gordy, who is undoubtedly the brains behind the whole operation.