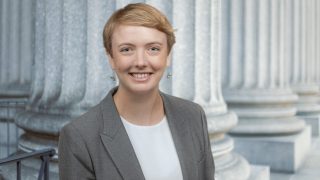 Holly Bainbridge
Staff Attorney
As a Staff Attorney, Holly Bainbridge litigates and engages in regulatory advocacy to improve the status and lives of animals. Her work focuses on advocating for farmed, wild, and captive animals who are subjected to exploitation and systemic cruelty in commercial industries.
Before joining the Animal Legal Defense Fund, Holly worked as an environmental attorney for the state of California, and as an associate attorney for an international law firm. She also served as a judicial clerk for the Honorable Marilyn L. Huff of the U.S. District Court for the Southern District of California. Holly earned her JD from the University of Arizona. She also has a BS in Agribusiness Economics and Management from the University of Arizona.
Holly lives in Oakland, CA with her companion dog Billy.