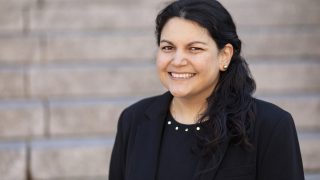 As Campaigns Manager, Elizabeth coordinates the communications aspects of all long-term campaigns and increases supporter engagement through direct outreach and digital marketing. She believes most people don't want animals to suffer but don't understand the impact of their food and lifestyle choices on animals. She's grateful that her work allows her to educate people and empower them to speak out on behalf of animals.
Elizabeth earned her undergraduate degree at Pomona College in 2007 and her J.D. from Georgetown University Law Center in 2011. Prior to joining the Animal Legal Defense Fund, Elizabeth spent four years at a cat advocacy organization where she drafted and oversaw the passage of dozens of laws protecting companion animals.
She lives in the Washington, D.C. area with her husband Teddy, two rescue Chihuahuas (Alvin and the Colonel), and four rescue cats: Ripley, Prometheus, Jabba the Catt, and Pinguino.