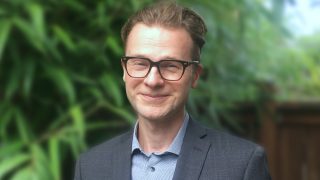 David Phillips
Digital Media Manager
As Digital Media Manager, David oversees the website and other digital systems that support the mission and work of the Animal Legal Defense Fund.
Previously, David spent 18+ years as a designer, animator and programmer working with organizations such as Nike, Google, AT&T, Volkswagen, Intel and the Atlanta Braves. He is excited to be able to apply the skills he used in the commercial world to the field of animal protection, an area he has felt passionately about his whole life. He has a Bachelor's in Fine Arts from the University at Buffalo.
David lives in Portland, Oregon with his partner and their rescue dog, Charlie, where he enjoys paddle boarding, swimming, board games, cooking and the green lifestyle of the Pacific Northwest.