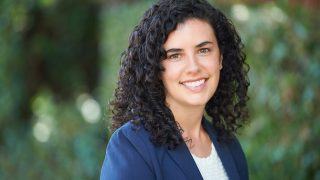 Cristina Stella
Managing Attorney
As a managing attorney at the Animal Legal Defense Fund, Cristina Stella litigates on behalf of farmed, wild, and captive animals who are subjected to systemic cruelty and exploitation in commercial industries. Her cases primarily focus on increasing transparency in the industrial agriculture system and challenging industrial agricultural practices that harm animals, the environment, and public health.
Before joining the Animal Legal Defense Fund Cristina spent five years as an attorney with the Center for Food Safety in San Francisco, where she litigated cases against the federal government to improve its oversight of the U.S. food system, and advocated for more humane, transparent, and sustainable food production practices. Cristina also teaches Animal Law as an adjunct professor at the University of California, Davis School of Law, and has previously taught at the University of San Francisco School of Law. ​She began her legal career as a law clerk for the Supreme Judicial Court of Maine.
Cristina is co-author of the investigative report, America's Secret Animal Drug Problem: How Lack of Transparency is Endangering Human Health and Animal Welfare, and has appeared on CBS News and in the documentary film What the Health? Her work has been covered in The New York Times, the Chicago Tribune, Mother Jones, and Politico​, and she has been quoted in The New York Times, The Washington Post, the San Francisco Chronicle, and VICE News.
Cristina graduated with honors from Georgetown University Law Center in 2011 and earned her undergraduate degree magna cum laude from Villanova University in 2007. She is admitted to practice in New York and California. ​Prior to becoming a lawyer, Cristina managed a nonprofit partnership between small-scale farmers and communities with low incomes in Portland, Oregon.​
---
See bar admissions of our attorneys.