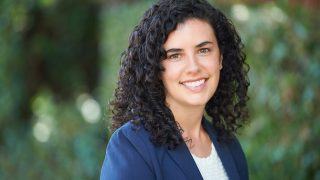 Cristina Stella is a staff attorney with the Animal Legal Defense Fund. She has a particular focus on stopping the systemic abuse of farm animals in industrial agriculture.
Prior to becoming a lawyer, Cristina managed a nonprofit partnership between farmers with low incomes and communities with poor access to fresh produce, which introduced her to the many ways the law allows and even encourages unsustainable, exploitative practices throughout the food system. This work sparked her passion for protecting animals, farmers, consumers, and the environment from the harmful effects of industrial agriculture, which has been the focus of her career ever since. Before joining the Animal Legal Defense Fund, she spent five years as an attorney at Center for Food Safety in San Francisco working to improve federal oversight of U.S. food production.
After graduating cum laude from Georgetown University Law Center, Cristina clerked for the Maine Supreme Judicial Court. When she's not working, Cristina enjoys spending time outdoors with Louie, her toothless, hairless, and adorably grumpy rescue dog.