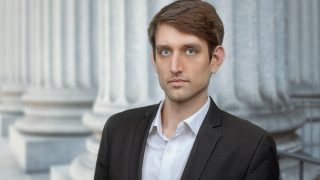 Christopher Berry
Managing Attorney
Christopher Berry works on a broad range of animal issues including puppy mills, factory farms, and consumer rights. He helps formulate creative legal theories to help animals and challenges government agencies that are not following the law as in Legal Rights and Duties in Lost Pet Disputes.
Christopher also works hard to fight abuse on factory farms and protect consumers who want to make humane choices. For example, he served on the Cal-Cruz Hatcheries case, applying the animal cruelty code to a chicken hatchery through a consumer protection law. Christopher also worked on Glover v. Mahrt, a class-action lawsuit alleging that egg packaging depicting outdoor hens mislead consumers who wanted to buy more humanely produced eggs.
Christopher graduated with honors in 2008 from the University of South Dakota, where he majored in political science and minored in psychology. While there, he focused his attention on animal issues and wrote an honors thesis arguing that invasive medical testing on animals violates fundamental bioethics principles. Christopher attended law school at the University of Michigan while maintaining his interest in animal rights with a focus on litigation. He was involved in student advocacy in Ann Arbor and acquired experiences interning at the public defender's office in the child abuse and neglect docket, participating in the environmental law clinic, and serving as a law clerk for the Humane Society of the United States, where he worked on the farmed animal litigation team.
Christopher cares for a Rocky Mountain Retriever mix named Rigby and lives in Oakland, CA.
---
See bar admissions of our attorneys.