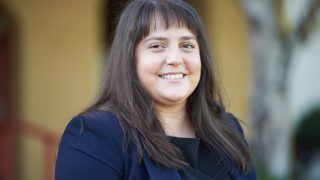 As a Criminal Justice Program Fellow, Brittany Hill assists all stakeholders in the criminal justice system to obtain just outcomes in animal cruelty cases. Brittany largely focuses on researching alternative interventions that effectively hold animal cruelty offenders accountable.
Brittany graduated cum laude from Lewis & Clark Law School, earning a JD. Brittany was awarded the Animal Law Leadership Award and selected to join Lewis & Clark Law School's Cornelius Honor Society, in large part due to her involvement with the school's Animal Legal Defense Fund Student Chapter. Brittany also earned a BA in Philosophy from Santa Clara University.
Prior to the Animal Legal Defense Fund, Brittany worked on criminal justice reform issues, focusing on clemency and community law. Brittany believes her criminal justice reform background brings a unique, under-represented perspective to animal law.
Brittany is passionate about showing others, especially law school students, that reform-minded voices are needed in animal law. Brittany hopes her work can spark conversations about reducing recidivism among animal cruelty offenders and what effective accountability looks like.
Located in Portland, Oregon Brittany enjoys reading, doing puzzles, playing pinball and listening to podcasts. Brittany lives with her husband and two cats, Lucy and Teddy.