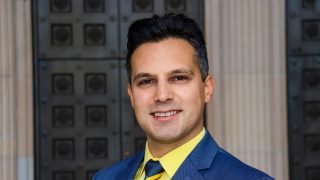 Brian R. Hackett
Legislative Affairs Manager
As a Legislative Affairs Manager, Brian Hackett works to advance the Animal Legal Defense Fund's key legislative priorities to create stronger animal protection laws, as well as improve the awareness and enforcement of these policies with public officials and the community.
Brian graduated magna cum laude from The College of New Jersey (TCNJ) with a bachelor's degree in political science and public policy management. Before joining the animal protection movement in a professional capacity, Brian was a political consultant and operative. He briefly served on a local governing body, an experience that later helped him advance over 150 animal protection ordinances banning the retail sale of puppy mill animals.
Prior to joining the Animal Legal Defense Fund, Brian served as the New Jersey State Director for the Humane Society of the United States, where he engaged in all levels of government, placing an emphasis on effective collaboration with a variety of diverse stakeholders to advance animal protection policies.
He has directly led or strategically supported numerous campaigns to pass landmark animal protection legislation, seeing over a dozen new animal protection laws to completion in New Jersey, including a comprehensive ban on the use of wild animals in traveling shows and circuses, a prohibition on the sale and trade of shark fins, criminalizing the possession of animal fighting paraphernalia, stopping pet leasing schemes, reforming dangerous dog laws, prohibiting the sale of cosmetics tested on animals, and passing a major structural reform of animal cruelty law enforcement, ensuring that the state's extensive animal cruelty and protection laws are properly enforced.
Brian has been repeatedly recognized by Insider NJ's OUT100 List as one of the most successful advocates in the state.
On a local level, Brian has worked to save countless lives, advancing support for humane community cat management through Trap-Neuter-Vaccinate-Return (TNVR) policies with counties and municipalities. He served on an ad hoc committee formed by the Cumberland County Board of Commissioners to study and promote TNVR and was appointed to chair the animal welfare mayoral transition sub-committee in the seventh largest city in the state. He is also a board member for People for Animals, Inc., a New Jersey-based network of low-cost spay/neuter and veterinary wellness clinics.
Brian is a proud lifelong resident of the Garden State, where he resides in South Jersey with his partner, Eric, and a large array of rescued cats and dogs. In his spare time, Brian is an avid reader and enjoys cycling, kayaking, going down the shore, traveling the world, meeting new people, and experiencing new places.