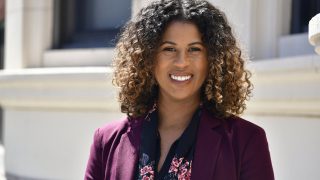 Asha Brundage-Moore
Litigation Fellow
As a Litigation Fellow, Asha Brundage-Moore works with the Litigation Program attorneys to research and develop creative legal strategies to help animals. Asha has a particular interest in ending factory farming and bringing justice to the animals and communities currently exploited by the industrial animal agriculture system.
Asha earned her B.A. in Human Biology with a concentration in Food Policy from Stanford University. She earned her J.D. from New York University School of Law where she was a Root-Tilden-Kern public interest scholar and served as the Editor-in-Chief of the Environmental Law Journal. Before joining the Animal Legal Defense Fund, Asha clerked for the Honorable Theodore McKee of the Third Circuit Court of Appeals.
When she's not working, Asha enjoys biking around New York City, hiking in the Hudson valley, and spending time with friends.