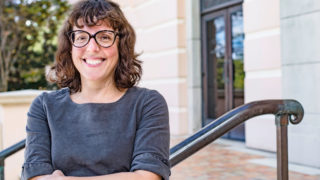 As a Senior Writer, Arin Greenwood crafts written content for the Animal Legal Defense Fund including the newsletter, press releases, op-eds, website content and blogs.
Arin is a graduate of Columbia Law School and member of the New York bar, but has made a successful career as a journalist and author. Prior to joining the Animal Legal Defense Fund, Arin was the animal welfare editor for The Huffington Post. Her animal stories have appeared in many publications including The Washington Post, Slate, The Today Show, The Dodo, The American Bar Association Journal, Creative Loafing, and more. An accomplished author, Arin has written and published three books. 
Arin lives in St. Petersburg, Florida, with her husband Ray and four rescued companion animals: Murray the dog, and cats Elfie, Jackie, and Chappy.