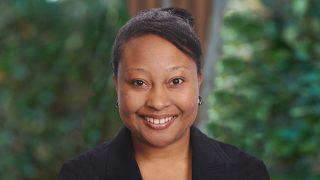 As a Managing Attorney in the Animal Legal Defense Fund's Pro Bono Program, Akisha works to implement the goals and strategic objectives of the nation's largest pro bono network for animal protection. Her work involves developing relationships with outside attorneys, firms, and other legal professionals and organizations interested in supporting groundbreaking advancements for animals through the organization's litigation, legislative and criminal justice initiatives as well as for members of the public seeking legal assistance for animal-related matters.
Akisha brings over a decade of animal law experience to her current role.  Prior to joining the Animal Legal Defense Fund, she worked as a legislative attorney for Best Friends Animal Society as well as the Humane Society of the United States, advancing animal protection laws on the local, state and federal levels.  She also served as a senior policy advisor for the international nonprofit World Animal Net (now merged into the World Animal Federation), assisting the organization with obtaining special consultative status at the United Nations and collaborating with other international organizations in making positive policy advancements.
Akisha has contributed to numerous publications. Her most recent chapters have appeared in the Palgrave Handbook of Animal Ethics, Career Paths in Human-Animal Interaction for Social and Behavioral Scientists and People, Pets, and Policies: Towards Community Supported Animal Sheltering.  She served as a consultant editor and contributor to the Journal of Animal Ethics and associate editor for the Journal of Animal Law.  Akisha has been an instructor, guest lecturer and speaker at numerous law schools, including Georgetown, Duke, Harvard, Lewis and Clark and Tulane University's International Legislative Drafting Institute.  Her publications have been included in the courses of international law schools.  She has presented at multiple national, state and local animal welfare conferences on recent developments in animal law and advocacy.  She is a former contributor for the Huffington Post and the Dodo and former Diversity Vice-Chair for the American Bar Association's Animal Law Committee within the Tort, Trial, and Insurance Practice Section. She is a current Associate Fellow at the Oxford Centre for Animal Ethics.
Akisha received her law degree from Georgetown University Law Center, where she was recognized as a Law Center Scholar and her bachelor's degree from Stanford University where she graduated with distinction (equivalent to magna cum laude).  At Georgetown, she served as president of her Student Animal Legal Defense Fund chapter, was a recipient of the Advancement of Animal Law Award and completed an animal welfare fellowship in the office of Senator Mary Landrieu. In addition, Akisha completed legal clerkships at Compassion Over Killing (now Animal Outlook) and the Pennsylvania Society for the Prevention of Cruelty to Animals.
Outside of work, Akisha has a passion for community service and advocacy and is an AmeriCorps alumni.  She is currently active in the grassroots community as well as the legal redress, environmental justice, and economic development committees of her local NAACP chapter, which recently awarded her the Prince and Cora Mack Humanitarian Award.  She lives in Kentucky with her husband and two companion rabbits.