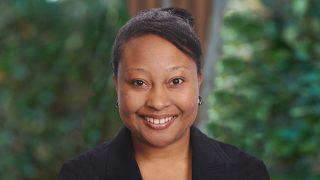 As the Senior Pro Bono Manager, Akisha works with outside attorneys and law firms willing to donate their time and talent to secure legal and legislative protections for animals. She supports all of the organization's programs by securing legal volunteers when needed and assisting members of the public by sharing animal law resources and volunteer opportunities with the Animal Legal Defense Fund's Pro Bono Network.
Akisha graduated from Georgetown Law, and received a Bachelor of Arts with Distinction from Stanford University. As a community advocate for a variety of civil rights and public interest concerns, Akisha mentors young people, and received the Prince and Cora Mack Humanitarian Award by Awarded by her local NAACP chapter. Previously, Akisha was a contributor to the Huffington Post and Associate Fellow at Oxford Centre for Animal Ethics.
Based in Bowling Green, Kentucky, Akisha shares a home with her husband Jack and two senior rabbits, Snowflake and Oreo. Recently, she has begun roller skating after a decade's long hiatus.