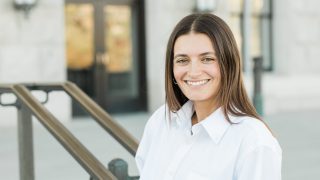 Campaigner Abbey Benesh is responsible for increasing supporter engagement through outreach, relationship development and management, and drafting campaign related content. Abbey also works closely with the organization's Legislative Affairs team to track bills, develop new recruitment strategies, and draft communications to supporters.
Abbey earned a B.S. in Management and Industrial Relations from the University of Bridgeport, and a J.D. from the University of Utah with certificates in Natural Resources and Environmental Law and Public Interest Law. As a law clerk for HSUS during her 2L summer, Abbey worked on a range of legal issues. Before joining the Animal Legal Defense Fund, Abbey worked for the Humane Society of Utah as an advocacy associate. In this role she worked on state legislation, local ordinances, coalition and relationship building, community and grassroots engagement, and animal cruelty investigations. Abbey authored "Rights of Nature: The Answer To Our Oceanic Issues?" which was selected for publication as well as presentation at the 2020 International Wildlife Conference.
Abbey currently resides in Salt Lake City, Utah with two of her best friends. Her dog, Moe, is an energetic, loving Australian shepherd/Collie mix.