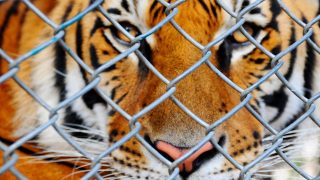 Captive Wildlife 2017
Presented by Matthew Liebman, August 8, 2017
Matthew Liebman, Director of Litigation for the Animal Legal Defense Fund, teaches participants how animal advocates are using state and federal laws to protect wild animals in captivity. This webinar will focus on groundbreaking litigation brought by the Animal Legal Defense Fund under the Endangered Species Act, the Animal Welfare Act and state laws.  The cases have sought to liberate Lolita the Orca, Candy the Chimpanzee, Tony the Tiger, Ben the Bear and others from inhumane captivity.
This webinar has already taken place. You can watch a recording of the session here.
Related
Today the U.S. District Court for the District of Minnesota issued a critical ruling in favor of wolves' legal protection — determining that gray wolves are not excluded from the Endangered Species Act even if they have some detectable dog genes.

The New York City Council is considering Intro 1425, the Carriage Horse Heat Relief Bill. Intro 1425 strengthens protections for carriage horses forced to work in extreme heat. We need your help to ensure this important bill is passed.

On Tuesday, June 4th, the Animal Legal Defense Fund and The Humane Society of the United States hosted their first joint California Humane Lobby Day. Nearly 100 animal advocates gathered in Sacramento to lobby legislators on five animal protection bills.