Endangered Species Act: How It's Helping Captive Animals 2019
Presented by Danny Waltz on February 22, 2019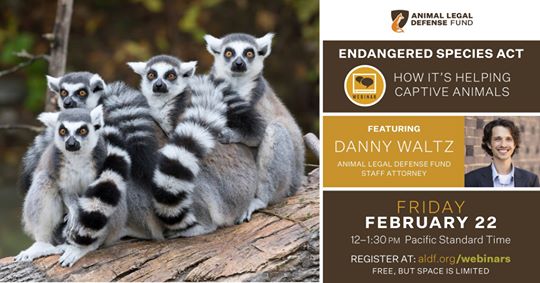 In 2016, the Animal Legal Defense Fund became the first to successfully use the Endangered Species Act on behalf of captive animals held at Cricket Hollow Zoo in Iowa.
Join us for a special look into this case and the success stories that have followed. Staff Attorney, Danny Waltz, will present with a Q&A to follow.
Related
Endangered animals including lions, tigers, and gray wolves suffer in squalid conditions at Special Memories Zoo.

The government announced distressing changes to the Endangered Species Act – weakening one of our nation's most important animal protection laws. The ESA has prevented the extinction of numerous including the northern gray wolf and the Florida manatee.

Today, a coalition of animal protection and conservation groups sent a letter to the Humboldt County Board of Supervisors and Humboldt County Agriculture Commissioner, urging them to terminate their contract with the USDA.