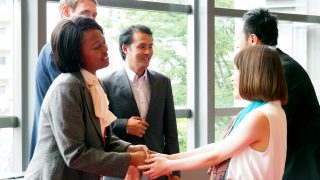 Calling All Students: Academic Opportunities in Animal Law! 2018
Presented on February 2, 2018
Interested in animal law but aren't sure where to start? The field is growing at a rapid rate and most major law schools now offer at least one course in animal law. However, there are a handful of law schools that stand out from the rest by providing exceptional educational opportunities geared towards a passion for animal issues.
Join us for an interactive and engaging live webinar with the leaders in animal law academia! Pam Frasch from Lewis & Clark Law School, Chris Green from Harvard Law School, David Favre from Michigan State Univ. College of Law, and Elizabeth Dennis from South Texas College of Law Houston will provide information on their respective school's history with animal law and the opportunities available for students. This webinar will mostly be fueled by questions from attendees, so participation is strongly encouraged.
This webinar was previously recorded: Watch now.
Related
Today the U.S. District Court for the District of Minnesota issued a critical ruling in favor of wolves' legal protection — determining that gray wolves are not excluded from the Endangered Species Act even if they have some detectable dog genes.

The New York City Council is considering Intro 1425, the Carriage Horse Heat Relief Bill. Intro 1425 strengthens protections for carriage horses forced to work in extreme heat. We need your help to ensure this important bill is passed.

On Tuesday, June 4th, the Animal Legal Defense Fund and The Humane Society of the United States hosted their first joint California Humane Lobby Day. Nearly 100 animal advocates gathered in Sacramento to lobby legislators on five animal protection bills.