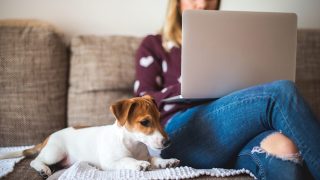 Webinars
Animal Law Academy
The Animal Law Academy webinars are an opportunity to hone your skills and gain both practical and substantive knowledge about important issues currently facing animals in the legal system. Participants will learn from the experts and enjoy an interactive Q&A session. Don't miss the chance to get an in-depth look into what it means to advocate for animals' through the legal system.
Animal Law Academy webinars are suitable for anyone interested in animal law, current and future law students, attorneys, legal professionals and animal advocates.
Upcoming webinars
Past webinars

Join David Rosengard, Animal Legal Defense Fund senior staff attorney, for a discussion regarding wildlife crimes, crimes against wildlife — and the subtle but significant difference between the two.

As 2020 comes to an end, we're looking back at our biggest legal victories for animals over the last year and looking ahead at what's to come in 2021. Join Stephen Wells, executive director of the Animal Legal Defense Fund, as he shares stories behind this year's biggest victories.

Join Animal Law Program Director Stacey Gordon Sterling for a discussion of how courts review the legal status of animals in the context of animal standing cases.

Join us for a presentation to review animal protection bills in the New York legislature – and learn ways that you can directly impact bill movement.

Restorative justice is not a new concept, but it largely has not been applied in animal crimes. In this webinar, Brittany Hill, Criminal Justice Program Fellow, will introduce the audience to restorative justice.

In this interactive webinar Kathleen Schatzmann, Senior Legislative Affairs Manager, will provide an update on animal protection legislation in New Jersey and provide multiple real-time opportunities for strategic targeting to build support and momentum for bill passage.

Join Animal Legal Defense Fund Senior Staff Attorneys Jamie Contreras and David B. Rosengard as they discuss how the legal system treats animal sentience and how a trilogy of Oregon cases recognizing animal sentience points towards a new framework for animals within the law.

This year has been busy for the Animal Legal Defense Fund! Join Stephen Wells, Executive Director, and Kathleen Schatzmann, Senior Legislative Affairs Manager, as they discuss current cases and projects, plus what's planned for the rest of the year, with special focus on the Legislative Affairs Program.
Related
This action is for U.S. residents only.

The victory follows the passage of a factory farming law and efforts to curtail the construction of new mega dairies in the state

Lawsuit filed by the Animal Legal Defense Fund and The Good Food Institute asserts that the law imposes unclear and vague standards on plant-based meat producers