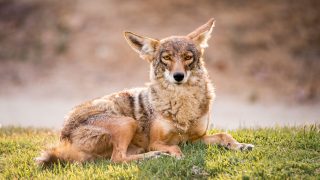 Virginia: Take Action to Ban Cruel Wildlife Killing Contests
This action is for Virginia residents only.
Virginia animal advocates have a chance to help stop wildlife killing contests — cruel events in which participants compete to kill as many animals as they can in a set amount of time, receiving cash or prizes in categories such as most animals killed and largest or smallest animals killed. Animal victims commonly include coyotes, foxes, bobcats, and other wild species.
The Virginia Department of Wildlife Resources has proposed a new rule that would ban wildlife killing contests in the Commonwealth. If approved, Virginia would join eight other U.S. states that have banned these inhumane contests. The state Board of Wildlife Resources is currently engaged in a rulemaking process that includes a public comment period, which runs through July 30. Your voice is urgently needed to protect vulnerable wild animals.
Please visit the Department of Wildlife Resources website to submit your comment today, stating your support for the proposed regulation to ban killing contests of coyotes and other furbearing animals in Virginia.
Questions? Feel free to reach out to aprygoski@aldf.org for more information.
Join the Animal Legal Defense Fund's email list to stay up to date on lawsuits, legislation, and regulations affecting animals.
Sign Up Now
Related
International Fur Trade Federation's amended complaints dismissed in decisive victory for animals

Representatives Mike Quigley (D-IL) and Brian Fitzpatrick (R-PA) reintroduced the Big Cat Public Safety Act in the U.S. House of Representatives. The House of Representatives voted 272 to 114 to pass the same bill in December.

For years, captive wild animals have suffered in the care of traveling zoo operator Robert Sawmiller. On December 9, 2020 two wolves and a Labrador named Fancy were rescued and transported to sanctuary through legal action brought by the Animal Legal Defense Fund.