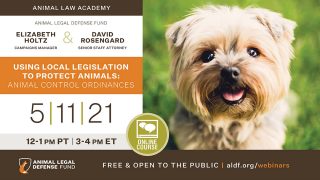 Using Local Legislation to Protect Animals: Animal Control Ordinances
5/11/21 12-1pm PT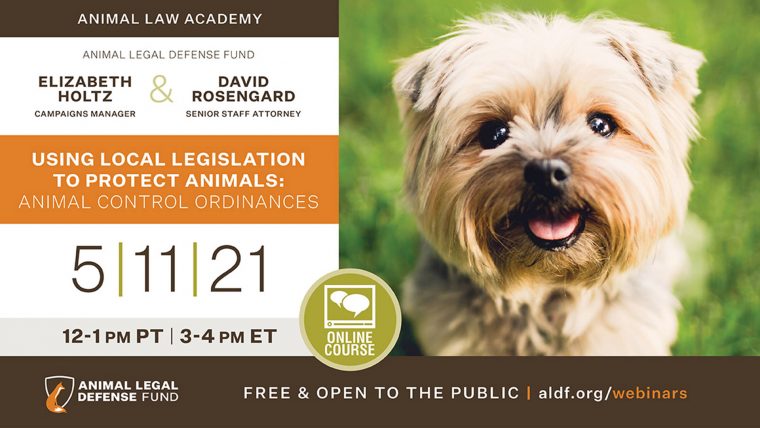 Originally enacted with public health and safety in mind, modern animal control ordinances should also foster more humane and kinder communities for animals and humans alike. Learn how to strengthen your community's animal control ordinance to better protect animals!
In this webinar Senior Staff Attorney David Rosengard and Campaigns Manager Elizabeth Holtz will discuss common provisions in animal control ordinances, including humane caregiving, tethering, and vehicle rescue (sometimes called "hot car" laws). You'll learn the key components of a strong animal control ordinance, how to find and understand your community's ordinance, and ideas for how you can improve your community's laws.
Related
Animal Legal Defense Fund challenges the renewed license for the owner of Wildlife on Wheels after evidence has revealed ongoing violations for more than a decade

A Courtroom Animal Advocate Program (CAAP) bill, S.2868/A.4533, which would allow law students and volunteer lawyers to advocate for animal victims in cruelty criminal cases, unanimously passed the New Jersey Senate. The bill is sponsored by Senator Nicholas Scutari and Assemblyman Raj Mukherji and endorsed by the Animal Legal Defense Fund.

Breeding operation, Adorable Stars, sells parasite-ridden kittens suffering from severe and fatal ailments
Join the Animal Legal Defense Fund's email list to stay up to date on lawsuits, legislation, and regulations affecting animals.
Sign Up Now