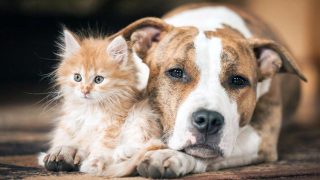 Massachusetts: Urge Your State Legislators to Support Two Animal Protection Budget Items In Conference
This action is closed.
Great news! Thanks to you, the Mass Animal Fund allocation of $50k to companion animals in need has been included in the final FY2021 budget released from the conference committee, which is being sent to the Governor's desk.
Especially with the financial challenges associated with the COVID-19 pandemic, too many animals are going without critical health services – and the waitlist for such services is growing. This funding will help ensure animals in need, especially those in families impacted by the pandemic, receive spay, neuter, and vaccination services.
We are grateful to amendment sponsors State Representative Lou Kafka and Senator Jim Welch for their leadership, to the amendment co-sponsors, conference committee members, and others in the legislature for their support!
Thank you for taking action for animals! Your outreach helped make this possible.
Although the budget amendment relating to housing policies that discriminate against families with dogs on the basis of breed, size, or weight will not be included in the FY2021 budget, we are grateful to amendment sponsor Senator Jim Welch for his leadership and to the members of the Senate who voted in favor of it. We will continue to advocate for stable housing for families with companion animals in an economic crisis and beyond — families in the Commonwealth should be able to find housing together with their dogs, regardless of the dog's breed. No one should have to choose between their dog and their home.
Join the Animal Legal Defense Fund's email list to stay up to date on lawsuits, legislation, and regulations affecting animals.
Sign Up Now
Related
The Animal Legal Defense Fund released the second in a series of white papers — COVID-19 and Factory Farming —providing policy recommendations to address industrial animal agriculture's role in our heightened risk for zoonotic diseases outbreaks, like COVID-19, and its potential to be the source of the next global pandemic.

A coalition, led by the Animal Legal Defense Fund, filed an emergency petition with the USDA to prevent COVID-19 relief funds, resources, and any other forms of support from facilitating or compensating for the costs of ventilation shutdown or water-based foam "depopulation" — the mass killing of animals on factory farms.

As the Animal Legal Defense Fund combats dogfighting by working with state officials to create stronger laws and more effective penalties for those who engage in this crime, we're also hard at work to ensure the best possible outcomes for dogfighting victims.