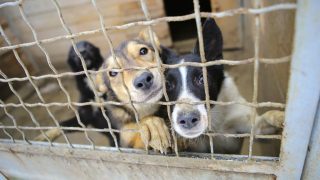 Urge Florida Senators to Say "No" to Puppy Mills
This action is closed.
UPDATE: Great news! Thanks to you and other compassionate Florida residents, cities and counties in Florida will continue to have the ability to pass laws prohibiting the sale of puppies and kittens in pet stores. The dangerous language in the tax bill, HB 7087, was removed prior to the bill becoming final.
Dozens of Florida cities and counties have enacted laws prohibiting the sale of companion animals in pet stores. Because virtually all puppies sold in stores come from puppy mills, these laws are a powerful way to take a stand against this cruel industry.
Pet stores that sell puppies know that public sentiment is turning against them, and they're desperate to protect their profits. Language snuck into H.B. 7087, a tax bill, would strip Florida cities and counties of the ability to ban the sale of puppies in pet stores, and would void the existing bans in municipalities across the state.
Please take a few minutes today to call your senator and politely urge him or her  to reject this language in H.B. 7087. You can find your senator and his or her contact information by clicking here.
Here's a sample message to share with your senator:
"I am ____ (name of legislator)'s constituent. I care deeply about shutting down puppy mills, and the vast majority of dogs sold in pet stores come from puppy mills. I urge you to reject the language in H.B. 7087 that would preempt Florida municipalities from passing laws that prohibit the sale of puppies in pet stores and void the bans already effect in 58 municipalities across the state"
Related
The Animal Legal Defense Fund announced that a settlement agreement has been reached with the Animal Kingdom pet store in a high-profile lawsuit over a puppy laundering scheme to unlawfully circumvent the California "retail pet sale ban" — a law that bans the sale of dogs from commercial breeders, commonly called puppy mills.

This week, the Superior Court of California in Solano County found the owner of California Carolina Dogs, a puppy mill located in Vallejo, liable for violating the Polanco-Lockyer Pet Breeder Warranty Act following a lawsuit filed by the Animal Legal Defense Fund on behalf of Caru SPCA.

As shelter-in-place orders are given across the nation, there is a growing concern that family violence will be on the rise.