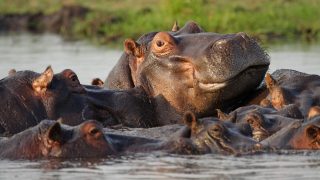 Urge Airlines to Ban Transport of Hippo 'Trophies'
The Colombian government announces plan to declare hippos invasive species.
A group of hippos in Colombia are under threat of being killed for "trophies." Descendants of four hippos illegally imported by Pablo Escobar, the so-called "Cocaine Hippos" will be declared an invasive species, according to an announcement by the Colombian government. This designation could open the door for hunters to apply for permits to kill the animals and transport them home as "trophies."
Urge United Airlines, American Airlines, and Delta Airlines to preemptively ban the transport of hippo "trophies" from Colombia.
In 2015, following the killing of Cecil the lion, Animal Legal Defense Fund supporters successfully pressured airlines to ban "trophy" transport of the African Big Five species — buffalo, elephants, lions, leopards, and rhinos. Please join us in calling for an extension of that policy to include hippos from Colombia.
In October, the Animal Legal Defense Fund succeeded in winning recognition of the hippopotamuses as "interested persons" in U.S. federal court related to a lawsuit filed on their behalf in Colombia. This was the first time that animals have been recognized as legal persons in a U.S. court.
Send a message using the form below to urge airlines to preemptively ban the transport of hippo "trophies." Personalizing your message can help it stand out.
Join the Animal Legal Defense Fund's email list to stay up to date on lawsuits, legislation, and regulations affecting animals.
Sign Up Now
Related
The Animal Legal Defense Fund organizes public pressure campaign urging American, United, and Delta Airlines to broaden trophy hunting bans announced after Cecil the lion was killed

An international fight to protect Pablo Escobar's hippos from slaughter results in a U.S. federal court order recognizing animals can be "interested persons"