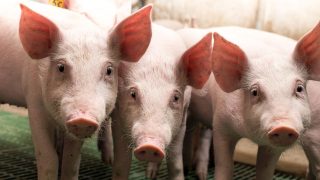 United States: Ask Your Federal Legislators to Protect Farmed Animals with the Safe Line Speeds in COVID-19 Act
This action is for US residents only.
The number of animals that can be killed every hour at slaughterhouses has historically been regulated by the U.S. Department of Agriculture. When slaughterhouses are allowed to kill at high line speeds (up to 175 birds a minute and at unlimited speeds for pigs) farmed animals are vulnerable to increased suffering because the increased speed compounds the risk of animals not being unconscious when they are killed, as required by law.
For years, industrial animal agricultural interests have lobbied the federal government to increase speeds and minimize oversight. The Safe Line Speeds in COVID-19 Act (H.R. 7521/S.4338) would suspend the U.S. Department of Agriculture's (USDA) authority to issue new waivers related to line speeds and suspend current waivers during the COVID-19 public health emergency. It would also halt the implementation of the "New Swine Slaughter Inspection System" which allows pig slaughterhouses across the country to police themselves and exposes pigs to horrific abuse.
Faster line speeds make it difficult for animal agriculture workers to maintain social distancing, increasing the risk of infection. And fast line speeds always increase animal suffering and food safety concerns.
Please urge your U.S. Senators and Representative to co-sponsor the Safe Line Speeds in COVID-19 Act. If your legislator is already a sponsor (see if your Senators and/or Representative are co-sponsors), a thank you email will be generated instead. You will have the opportunity to review the text of the email before sending.
Call your legislators if they are not already co-sponsors (see above to find out). Phone calls have much more impact than emails. If you're able to make a phone call, please do so. You can use this message: "I'm calling to urge my legislator to co-sponsor the Safe Line Speeds in COVID-19 Act to protect farmed animals and workers."
After calling, please send a follow-up email using the form below. Personalizing your message will help it stand out.
Report animal abuse, worker safety concerns, depopulation, or illegal disposal confidentially.
REPORT NOW
Related
Video shows malicious acts of violence toward cows, gross neglect of calves

Dairy Farmers of America supplier caught on video, prompting lawsuit

Lawsuit Challenges Law Designed to Disadvantage Plant-Based Products