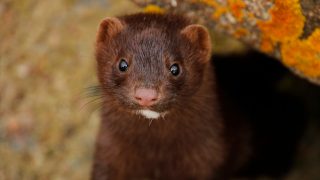 United States: Urge Congress to Shut Down Cruel Mink Farms
This action is for U.S. residents only.
On mink fur farms, thousands of minks are confined to tiny wire cages. Unable to engage in most of their natural behaviors, minks routinely resort to self-mutilation, obsessive pacing, and infanticide. Sanitation is poor, and veterinary care is almost non-existent. But not only is fur farming deeply cruel, these fur farms are breeding grounds for pathogens that ultimately result in zoonotic diseases. Mink fur farms in the U.S. and around the world have become hot spots for COVID-19, including on farms in Michigan, Wisconsin, Utah, and Oregon.
In response to the pandemic, European governments killed nearly 20 million minks in 2020 alone. More than a dozen European countries have already outlawed fur production, including the United Kingdom, Belgium, Austria, the Czech Republic, and Norway. Denmark, one of the world's largest fur producers, has halted mink fur farming until 2022 due to COVID-19.
Please urge your federal legislators to support any efforts to shut down cruel mink farms to protect animals and help prevent the next pandemic.
Related
International Fur Trade Federation agreed to dismiss its appeal, ending case in decisive victory for animals

International Fur Trade Federation's amended complaints dismissed in decisive victory for animals

Animal protection organizations allowed to intervene in International Fur Federation lawsuit challenging ordinance's constitutionality