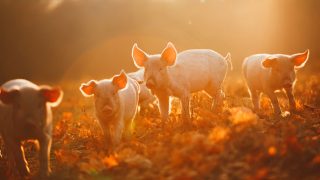 United States: Help Provide Student Access to Healthy Cruelty-Free Food
This action is for U.S. residents only.
Modern animal agriculture poisons our planet, sickens our bodies, and cruelly exploits billions of animals each year. Students should be given the choice to eat healthier foods.
A new bill, the Healthy Future Students and Earth Act (H.R. 4108), seeks to address that problem by providing voluntary grant funding to schools to enable them to add healthy cruelty-free, plant-based, environmentally friendlier foods to their menus.
Plant-based meals do not require warehousing and slaughtering animals — a process that is inefficient, cruel, and requires vastly more resources in terms of land and water than eating plants directly.
This bill would empower students who want to eat healthier, more sustainable, cruelty-free foods, while also benefiting animals and the environment, since most animal-based products served in school lunch programs are sourced from inhumane and environmentally destructive factory farms.
Please use the form below to send a message to your U.S. representative, urging them to support this important bill. Personalizing your message will help it stand out.
Join the Animal Legal Defense Fund's email list to stay up to date on lawsuits, legislation, and regulations affecting animals.
Sign Up Now
Related
Reward for information leading to the arrest and conviction of the person or people responsible for illegally shooting and killing a red wolf in Tyrrell County, North Carolina.

Animal Legal Defense Fund files motion for summary judgement with damning evidence against the university

Animal Legal Defense Fund offers reward for information leading to the arrest and conviction