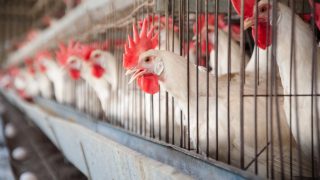 Texas: Urge the Texas House Committee on Agriculture & Livestock to Amend Ag-Gag Bill
This action is for Texas residents only.
This alert is currently only open to Texas residents with key legislators on the House Committee on Agriculture & Livestock and residents in Senator Kolkhorst's District.
The Texas House Committee on Agriculture & Livestock is considering a bill, HB 1480, that contains dangerous language aimed at stopping whistleblowers from exposing animal cruelty. Ag-Gag laws seek to "gag" would-be whistleblowers and undercover activists by punishing them for recording footage of what goes on in animal agriculture. HB 1480 would create an Ag-Gag law in Texas — preventing the public from learning about animal cruelty.
Undercover investigations have revealed severe animal abuse on factory farms — animals beaten, maimed, and mutilated. Our ability to investigate, document, and publicize corporate agriculture's abuses is not only critical to protecting animals but also our own health and safety. Factory farming is already responsible for numerous zoonotic disease outbreaks including the 1997 Bird Flu (H5N1) and the 2009 Swine Flu (H1N1). It's essential that health and safety violations are promptly uncovered and addressed.
If your state representative sits on the Texas House Committee on Agriculture & Livestock or you live in bill sponsor Senator Kolkhorst's district, please urge them to amend the bill and remove the language that criminalizes legal undercover investigations at facilities like factory farms, slaughterhouses, and puppy mills.
You can send an email and/or call your legislators using the toggle buttons noted with the icons below. Phone calls have much more impact than emails. If you're able to make a phone call, please do so.
Undercover investigations and whistleblowers have exposed some of the worst aspects of factory farming, but Ag-Gag laws punish people who speak out about cruelty in animal agriculture. Voice your opposition.
Take Action
Related
The United States District Court for the Northern District of California ruled in favor of the Animal Legal Defense Fund and its co-plaintiffs, denying an attempt by the Food and Drug Administration (FDA) to dismiss a lawsuit against the agency.

The Animal Legal Defense Fund released the second in a series of white papers — COVID-19 and Factory Farming —providing policy recommendations to address industrial animal agriculture's role in our heightened risk for zoonotic diseases outbreaks, like COVID-19, and its potential to be the source of the next global pandemic.

Video shows malicious acts of violence toward cows, gross neglect of calves