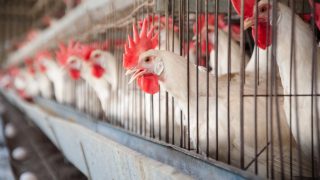 Texas: Urge Texas House of Representatives to Oppose Ag-Gag Bill
THIS ACTION IS CLOSED.
Update: SB 1884 did not advance further! Thank you to everyone who contacted their legislators in opposition. 
A dangerous bill aimed at stopping whistleblowers from exposing animal cruelty is moving quickly through the Texas legislature. This bill has already passed the Texas Senate – your voice is urgently needed to prevent it from becoming law. SB 1884 criminalizes undercover investigations at animal agriculture facilities like puppy mills, factory farms, and slaughterhouses. Ag-Gag bills like SB 1884 are designed to prevent the public from learning about animal cruelty.
Undercover investigations have revealed severe animal abuse on factory farms—animals beaten, maimed, and mutilated. Our ability to investigate, document, and publicize corporate agriculture's abuses is critical to the well-being of animals and our own health and safety.
Please call your Texas state representative as soon as possible and ask them to vote "no" on SB 1884.
Sample Message: Hi my name is ____, and I am a constituent of (representative's name). I'm calling to ask the representative to oppose SB 1884. Multiple state and federal laws already protect agriculture companies from biosecurity threats. SB 1884 would suppress free speech."
Find your representative and their contact information here. If it's after business hours, please leave a polite voicemail.
Thank you for taking the time to speak out for animals.
THIS ACTION IS FOR TEXAS RESIDENTS ONLY.
Undercover investigations and whistleblowers have exposed some of the worst aspects of factory farming, but Ag-Gag laws punish people who speak out about cruelty in animal agriculture. Voice your opposition.
Take Action
Related
The Animal Legal Defense Fund has launched a series of billboards, in English and Spanish, surrounding the JBS slaughterhouse in Greeley, Colorado — offering an online tip portal where industrial animal agriculture workers can report any concerns, including worker safety, animal abuse and depopulation, and illegal disposal of animals' bodies.

The Animal Legal Defense Fund announced that the U.S. District Court for the Northern District of California has denied the California Department of Food and Agriculture's (CDFA) motion to dismiss the lawsuit filed on behalf of Miyoko's Creamery (Miyoko's).

As the pandemic leads to reduced capacity at slaughterhouses, prolonged use of drug increases risk of harm.