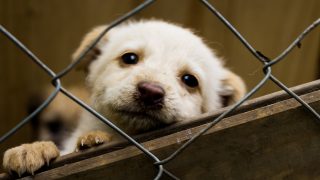 Texas: Urge State Legislators to Help Shut Down Puppy Mills
This action is for Texas residents only.
At puppy mills across the U.S., dogs and puppies suffer in cruel conditions, valued not as individuals but as sources of profit. Puppies born in these inhumane mills are frequently transported to other states, including Texas, to be sold in retail pet stores.
Texas animal advocates have an opportunity to take action and protect these vulnerable animals. A state bill, HB 1818, would address the "puppy mill to pet store pipeline" by prohibiting retail pet stores in the state from selling puppies and kittens unless they're obtained from an animal control agency, animal shelter, or rescue group.
The Texas House of Representatives and Senate have already approved different versions of HB 1818, which is now being considered by each chamber for a final vote. Please urge both your state representative and senator to support Representative Patterson's House version of this important bill and protect animals!
You can send an email and/or call your state legislators using the form below. Phone calls have much more impact than emails. If you're able to make a phone call, please do so. Action must be taken on Friday or Saturday to make an impact this session.
Related
Animal Legal Defense Fund challenges the renewed license for the owner of Wildlife on Wheels after evidence has revealed ongoing violations for more than a decade

A Courtroom Animal Advocate Program (CAAP) bill, S.2868/A.4533, which would allow law students and volunteer lawyers to advocate for animal victims in cruelty criminal cases, unanimously passed the New Jersey Senate. The bill is sponsored by Senator Nicholas Scutari and Assemblyman Raj Mukherji and endorsed by the Animal Legal Defense Fund.

Breeding operation, Adorable Stars, sells parasite-ridden kittens suffering from severe and fatal ailments