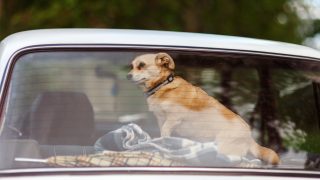 Texas: Take Action for Dogs in Hot Cars
THIS ACTION IS CLOSED.
We need your help to make Texas the next state to protect dogs in hot cars! SB 250 would protect Good Samaritans who rescue domestic animals (like dogs and cats) from motor vehicles by granting civil immunity in certain circumstances.
Animals left in hot cars die every year – even on a mild day, the temperature can go from 70 degrees to 89 degrees in just 10 minutes. On warmer days, the temperature can reach 114 degrees in the same amount of time. In a state like Texas where the weather is often warm year-round, it's critical that people are empowered to protect animals trapped in hot vehicles.
Learn more about dogs in hot cars.
Unfortunately, SB 250 has hit an impasse – and we need people who live in Senator Brandon Creighton and Senator Bryan Hughes' districts to make phone calls in support of SB 250 right now! When expressing your reviews, please be polite and respectful.
If you're not sure who your representatives are, find out here.
Sample Message: I am your constituent, and I care about protecting companion animals in hot cars. Please vote YES on SB 250.
Contact information for Senator Creighton and Senator Hughes:
Senator Brandon Creighton
(512) 463-0104
Senator Bryan Hughes
(512) 463-0101
Help make Texas the 15th state to protect Good Samaritans who rescue companion animals from hot cars. Urge Senator Creighton and Senator Hughes to support SB 250.
Since 1979, the Animal Legal Defense Fund has led the charge to win animals the legal protection they so desperately need—and deserve. Your generous gift will assure that we can continue to take on cases that advance the interests of animals.
Donate Now
Related
Ask your state legislators to support a bill that would prohibit people convicted of animal abuse from possessing animals for at least five years after their release from custody.

Animal protection coalition asks court to invalidate California Fish and Game Commission regulation for violating the California Environmental Quality Act.

Ask your state legislators to provide an opportunity for dogs and cats used in research to find loving homes once their time in a research laboratory has come to an end by supporting An Act Protecting Research Animals.
Join the Animal Legal Defense Fund's email list to stay up to date on lawsuits, legislation, and regulations affecting animals.
Sign Up Now