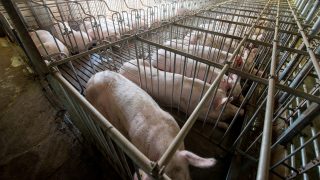 Michigan: Urge Your Senator to Oppose SB 174 Today
This action is for Michigan residents only.
A decade ago, the Michigan legislature enacted a landmark law requiring producers to phase out extreme confinement – one of the cruelest aspects of factory farming – for egg-laying hens, calves used for veal, and mother pigs. It's standard industry practice to confine these animals to cages so small that they cannot extend their limbs, stretch their wings, or turn around.
Today that law is under attack by factory farm lobbyists. The industry is pressuring Michigan legislators to pass SB 174 and reverse or weaken the 2009 law. Please send your Michigan state senator a brief message and urge them to oppose SB 174.
In additional to being cruel, intensive confinement compromises food safety. For example, eggs from hens in battery cages have higher rates of food-borne pathogens, including Salmonella. Producers have had ten years to upgrade their facilities and make these modest improvements. Their time is up.
Without your voice, millions of animals will continue to suffer in tiny cages indefinitely. Please send your senator a message today and ask them to oppose SB 174.
Factory farm lobbyists are pressuring the Michigan legislature to pass SB 174 and reverse or weaken protections for farmed animals.
Take Action
Related
Cruel high-speed pig slaughter is about to go nationwide. Help us protect pigs and contact your senators today.

The USDA violated federal law in finalizing this rule, acting contrary to the mountain of evidence before it demonstrating the rule's dangers, and flouting humane slaughter and meat inspection laws.

Court rules slaughter operations violate state animal cruelty and slaughter laws.
Since 1979, the Animal Legal Defense Fund has led the charge to win animals the legal protection they so desperately need—and deserve. Your generous gift will assure that we can continue to take on cases that advance the interests of animals.
Donate