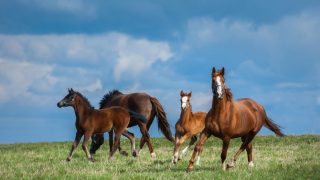 Take Action: Protect Louisiana's Wild Horses
This action is closed.
The Army plans to remove the roughly 700 wild horses living in Louisiana's historic Fort Polk and Kisatchie National Forest areas. These horses have lived there for decades, long before Fort Polk existed. We're worried that the removal ultimately will end in the slaughter of most, if not all, of these horses.
Tell decisionmakers that you oppose the removal of the Fort Polk wild horses
The Animal Legal Defense Fund is assisting a coalition of animal advocates that sued the Army over its planned eviction of the horses in 2016. Recently, the Army has taken steps to begin removal regardless of pending litigation. To protect the horses while the lawsuit proceeds, advocates filed a motion for a preliminary injunction asking the court to stop the Army's removal plans.
But the decision makers need to hear from you too. Please send a short message to key officials, including Louisiana legislators, and urge them to intervene on behalf of Fort Polk's wild horses.
TAKE ACTION
Wild horses are part of the fabric of our country and should be protected.
Related
Animals rescued from backyard slaughter operation near Fort Meyers, Florida are now headed to sanctuaries.

Animal Legal Defense Fund and American Wild Horse Campaign continue work to ensure wild horses' safety

Reward for information leading to the arrest and conviction of the person or people responsible for the horses' deaths in Floyd County, Kentucky