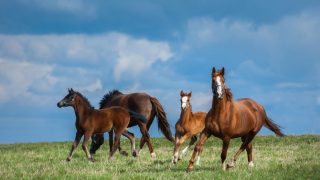 Take Action: Protect Louisiana's Wild Horses
This action is closed.
The Army plans to remove the roughly 700 wild horses living in Louisiana's historic Fort Polk and Kisatchie National Forest areas. These horses have lived there for decades, long before Fort Polk existed. We're worried that the removal ultimately will end in the slaughter of most, if not all, of these horses.
Tell decisionmakers that you oppose the removal of the Fort Polk wild horses
The Animal Legal Defense Fund is assisting a coalition of animal advocates that sued the Army over its planned eviction of the horses in 2016. Recently, the Army has taken steps to begin removal regardless of pending litigation.  To protect the horses while the lawsuit proceeds, advocates filed a motion for a preliminary injunction asking the court to stop the Army's removal plans.
But the decision makers need to hear from you too. Please send a short message to key officials, including Louisiana legislators, and urge them to intervene on behalf of Fort Polk's wild horses.
TAKE ACTION
Wild horses are part of the fabric of our country and should be protected.
Related
In May 2018, the Animal Legal Defense Fund filed a unique lawsuit in Oregon on behalf of a severely maltreated horse named Justice. Justice suffered starvation, frostbite, and other grave injuries due to his owner's failure to provide him with basic care.

Justice, an eight-year-old horse, is a party to a lawsuit filed against his former abuser to recover the costs of his ongoing medical care and his pain and suffering.

Wild horses who have lived in Devil's Garden Plateau in California's Modoc National Forest for over 140 years, have fallen under repeated attack.