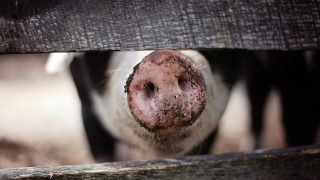 Take Action: Oppose HR 4879/HR 3599 and Support Animal Protection
Update: This action is closed.
Many critical laws protecting animals, including those regulating factory farms and preventing the sale of dog meat, are in danger. Representative Steve King (R-IA) is trying to pass HR 4879/HR 3599, the so-called "States' Rights Elimination Act," which would undo many of the legislative victories you've achieved for animal protection.
Tell your legislators that you oppose HR 4879/HR 3599.
HR 4879/HR 3599 takes away your state's ability to enact animal welfare laws protecting animals and consumers from food produced in unsafe conditions. Rep. King tried to pass similar legislation a few years ago, and animal advocates like you fought back. Congress needs to hear from you again.
Please take a few minutes to make a short, respectful phone call to your U.S. Representative and two U.S. Senators at (202) 224-3121. A sample message: "I am _____ (name of legislator)'s constituent. I am calling to ask you to oppose HR 4879/HR 3599, sponsored by Representative King, and instead support legislation that protects animals."
To make sure your message is heard, send a follow-up email message in support of states' rights to protect animals and consumers.
Thank you for helping us protecting our state and local animal welfare laws.
Related
In May 2018, the Animal Legal Defense Fund filed a unique lawsuit in Oregon on behalf of a severely maltreated horse named Justice. Justice suffered starvation, frostbite, and other grave injuries due to his owner's failure to provide him with basic care.

On Saturday, September 8th, the Animal Legal Defense Fund hosted its Justice for Animals Gala 2018 in Los Angeles, CA.

During this interactive webinar, Joyce Tischler will detail the lives of farmed animals and the laws (or lack thereof) that protect them.