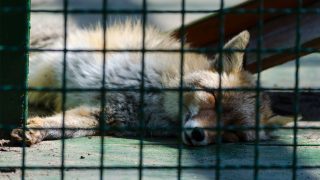 New York City: Make NYC Fur-Free!
THIS ACTION IS FOR NEW YORK CITY RESIDENTS ONLY.
New York City is on the verge of historic change – it could be the next city to ban the sale of fur! The Animal Legal Defense Fund is a proud member of Fur-Free NYC, the coalition working to end the sale of fur in the city. But we need your help!
Call your council member and urge them to sponsor Intro 1476, a bill that would prohibit the sale of fur apparel, with exceptions for used fur and fur worn as part of religious custom. If your council member is already sponsoring the bill, call and say thank you! Find the full list of sponsors at the bottom of this page.
Enter your address to find your council member and their contact information.
Sample Messages:
If they're not a co-sponsor, say this: "Hi, my name is __, and I'm a constituent of (council member's name). I'm calling today to ask the council member to please co-sponsor Intro 1476. Animal cruelty has no place in my city, and I strongly support a fur-free NYC."
If they are a co-sponsor, say this: "Hi, my name is __, and I'm calling to thank the council member for co-sponsoring Intro 1476. I care deeply for animals and am glad the council member supports this important bill."
Millions of animals are bred to die on fur farms every year. Animals like foxes and minks are confined to tiny wire cages for their entire lives. Unable to engage in any of their natural behaviors, animals on fur farms routinely resort to self-mutilation, obsessive pacing, and infanticide. Undercover investigations on fur farms have uncovered egregious cruelty – including animals being skinned alive.
There's no justification for this suffering. Make New York City fur-free – call your council member today.
Bill Sponsors: Speaker Corey Johnson, Council Member Mark Levine, Council Member Fernando Cabrera, Council Member Justin Brannan, Council Member Helen Rosenthal, Council Member Robert Holden, Council Member Brad Lander, Council Member Daniel Dromm, Council Member Antonio Reynoso.
THIS ACTION IS FOR NEW YORK CITY RESIDENTS ONLY.
Join the Animal Legal Defense Fund's email list to stay up to date on lawsuits, legislation, and regulations affecting animals.
Sign Up Now
Related
Court dismisses International Fur Trade Federation's complaint in victory for animals

The Animal Legal Defense Fund, the nation's preeminent legal advocacy organization for animals, is offering a $5,000 reward for information leading to the arrest and conviction of the person or people responsible for the shooting of a turtle and rabbit with a crossbow on the week of June 1, 2020.

Reforms emphasize coexistence with coyotes and other wildlife