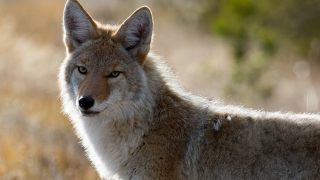 Take Action: Help Stop 2 Coyote Killing Contests on Federal Land
This action is closed.
We need your help today to stop two massive coyote killing contests, one of which is scheduled for this Saturday. These two contests are set to take place in Wyoming, partially on federal property, and they don't have the necessary permits for these killing sprees.
Act today—contact the Bureau of Land Management (BLM) and politely urge them not to let these killing contests occur in violation of federal regulations.
According to federal regulations, the reason permits are required is to manage visitor use, protect natural and cultural resources, minimize recreational use conflicts and provide for the health and safety of visitors. All of these concerns are at play when it comes to the upcoming coyote killing contests.
As an American taxpayer, we need you to contact the BLM today on behalf of coyotes.
The Animal Legal Defense Fund and a coalition of other animal protection organizations have already contacted BLM pointing out the legal permit requirements and demanding the killing contests be cancelled. Please add your voice and help us pressure the only agency that can stop these contests.
Related
Media invited to press briefing after multiple groups work together to rescue animals after court ruling orders their immediate removal from Cricket Hollow Zoo

Today, a coalition of animal protection and conservation groups sent a letter to the Humboldt County Board of Supervisors and Humboldt County Agriculture Commissioner, urging them to terminate their contract with the USDA.

Each year, hunters try to kill as many coyotes as possible in a single day.