Stay At Home With Your Dog Photo Contest
#StayAtHomeWithYourDogDay
With the abundance of advice to social distance, shelter-in-place, and self-quarantine, we at the Animal Legal Defense Fund thought it might be nice to focus on some of the positives of this unique situation: being at home with our animals!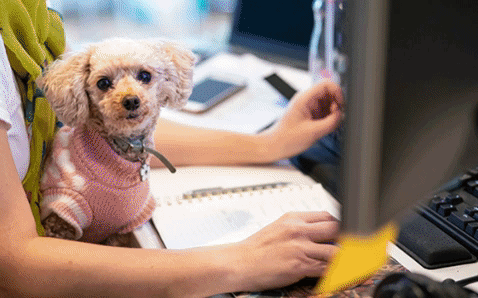 To highlight this positive point, we've declared it "Stay At Home With Your Dog Day!" (#StayAtHomeWithYourDogDay) and invite you to join us for a friendly photo competition and share photos of your "Office Mutt-Mates" and "Cat Coworkers" working hard (and sometimes hardly working!) by our side — as so many of us adjust to working from home.
The winning photo* will get an Animal Legal Defense Fund Swag Bag with a T-shirt, stickers, pins, and more!
Deadline to compete is March 27!
You can also post your photos directly to Facebook, Twitter, or Instagram — tag us — and use the hashtag #StayAtHomeWithYourDogDay
The last day to submit photos was on 3/27/20.
By submitting their photos to the Animal Legal Defense Fund, participants certifies that they are the sole creator and copyright owner of the submitted photograph and agree to grant the Animal Legal Defense Fund free of charge the right to use the photo in any manner and media, including without limitation, the right to publish, adapt, distribute, copy, display or translate in printed or electronic media even if they are not the winning entries.
*The photos will be narrowed down to the top three by staff, and voted on to declare a winner.
Related
Animal Legal Defense Fund and American Wild Horse Campaign continue work to ensure wild horses' safety

Three baboons and two macaques removed from Cricket Hollow Zoo are transferred to primate sanctuary, following Animal Legal Defense Fund lawsuit

Advocates continue to fight law that penalizes whistleblowing on factory farms, other businesses in violation of the First Amendment