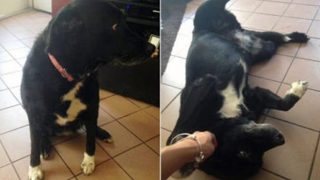 RSVP for Defending New York's Animals: Bella's Bill and Beyond
Bella, an eleven-year-old Shepherd mix, was killed by her caregiver on December 23, 2016 in Long Island, New York. He tightened a zip tie around her neck, stuffed her in a garbage bag, and beat her with a metal shovel. Due to the extent of her injuries, Bella had to be euthanized. Despite the seriousness of the crime, Bella's abuser received only four months in county jail – that's not justice.
That's why the Animal Legal Defense Fund is leading a coalition to strengthen New York's outdated animal cruelty laws by passing Bella's Bill in the New York legislature.
But we need your help to make Bella's Bill a reality. We're holding events across New York in March to help gather support for the bill. Join the Animal Legal Defense Fund in New York City, Albany, Syracuse, or New Rochelle for an engaging presentation about Bella's Bill as well as the basics on how to effectively lobby for animals!
RSVP for each city below!
Related
On February 8, 2022, the Washington State Supreme Court issued a decision in the case State v. Charmarke Abdi-Issa, holding that animal cruelty could be designated a crime of domestic violence, and that an animal's guardian could be considered a victim of the crime.

The Animal Legal Defense Fund, the nation's leading legal advocacy organization for animals, has tips for how you can make sure your companion animals sail through even the worst weather winter has to offer.

On an early August morning, 34 horses seized from a scene of severe neglect began their 107th day in state custody. Horse rescue volunteers had nursed the horses back to health, and ready to be adopted. But the horses needed one more thing...
Help animals win the legal protections they so desperately need and deserve, and ensure they have an advocate in courtrooms and legislatures across the country.
Take Action Now