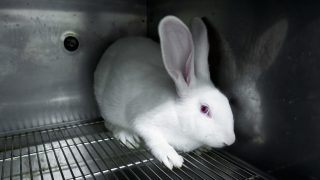 Rhode Island: Help end cruel cosmetics testing on animals
This action is for Rhode Island residents only.
Legislation to ban the sale of cosmetics developed or manufactured using animal testing is pending in Rhode Island. Animal testing is not legally required for cosmetics sold in the United States.
Every year, millions of animals are used in laboratory experiments in the United States. Animals used for cosmetic testing often endure skin and eye irritation tests, repeated force-feeding studies, and "lethal dose" tests to determine the dose that causes death.
At the end of most tests, the animals are killed, often by asphyxiation, neck-breaking or decapitation. Pain relief is not provided. In the United States, a large percentage of the animals used in such testing (such as laboratory-bred rats and mice) are not counted in official statistics and receive no protection under the federal Animal Welfare Act.
Nearly forty countries as well as the U.S. states of California, New Jersey, and New York have taken action to ban or restrict cosmetics testing on animals or the sale of cosmetics developed with the use of unnecessary animal testing.
Please urge your state legislators to support An Act Relating to Animals And Animal Husbandry – Cruelty to Animals (HB 7706), filed by Representatives Lima, Solomon, Serpa, O'Brien, and Shekarchi, to ban the sale of cosmetics developed or manufactured using animal testing.
You can send an email and/or call your state representative and state senator using the toggle buttons noted with the icons below. Phone calls have much more impact than emails. If you're able to make a phone call, please do so.
Join the Animal Legal Defense Fund's email list to stay up to date on lawsuits, legislation, and regulations affecting animals.
Sign Up Now
Related
New York City is on the verge of historic change – it could be the next city to ban the sale of fur! The Animal Legal Defense Fund is a proud member of Fur-Free NYC, the coalition working to end the sale of fur in the city. But we need your help!

All animals from Jim Mack's Ice Cream shop, including alpacas, a llama, emus, peacocks, rabbits, chickens, goats, and a goose, were transferred to rescues.

Laws like California's are part of a growing movement to combat large-scale commercial breeding facilities.