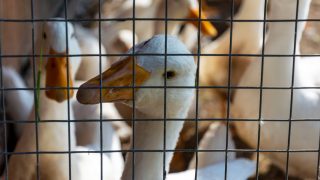 Portland: Help Ban Foie Gras Sales
This action is for Portland, OR, residents only.
Portland could be the next municipality to ban the sale of foie gras — a cruelly made product produced by force-feeding young ducks and geese until their livers swell to eight times their natural size.
A proposed ordinance would prohibit Portland restaurants and retailers from selling any product made through the force-feeding of ducks or geese.
Urge your City Commissioners to prioritize this issue and introduce an anti-foie gras ordinance early this year. Remember, personalizing your message will help it stand out.
Join the Animal Legal Defense Fund's email list to stay up to date on lawsuits, legislation, and regulations affecting animals.
Sign Up Now
Related
The USDA fought to keep the numbers hidden from public view, ultimately paying $15,000 in attorneys fees in settlement

The Animal Legal Defense Fund filed a lawsuit against the United States Department of Agriculture (USDA) under the Freedom of Information Act (FOIA) over the agency's critical redactions in a contract between the USDA's Wildlife Services program and a Colorado slaughterhouse, outlining plans for slaughtering geese rounded up in parks across Denver.

Animals rescued from backyard slaughter operation near Fort Meyers, Florida are now headed to sanctuaries.