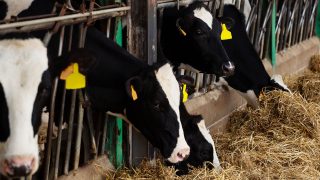 Polk County: Stop the Construction of Factory Farms!
This action is CLOSED.
Your voice is urgently needed to stop the construction of a factory farm in Polk County. On July 8th, the Polk County Environmental Services Committee will consider whether to approve an ordinance which would allow for a new factory farm, also known as a Concentrated Animal Feeding Operation (CAFO).
Please email the Polk County Environmental Services Director and the County Clerk to express your opposition to having this kind of facility in your town. Instead, urge them to enact an ordinance with strict regulations designed to keep these cruel facilities out of your community.
Animals raised in factory farms suffer terribly, routinely confined to spaces so small that they cannot lie down comfortably, turn around, or spread their wings. Factory farms are also a major source of air and water pollution. They have no place in Polk County.
Join the Animal Legal Defense Fund's email list to stay up to date on lawsuits, legislation, and regulations affecting animals.
Sign Up Now
Related
Actors Paul Wesley, Christina Ricci, Stevie Van Zandt and dozens of native and resident celebrities join the Animal Legal Defense Fund in an open letter urging the state's legislators to end the intensive confinement of mother pigs and calves in New Jersey.

The United States District Court for the Northern District of California ruled in favor of the Animal Legal Defense Fund and its co-plaintiffs, denying an attempt by the Food and Drug Administration (FDA) to dismiss a lawsuit against the agency.

The Animal Legal Defense Fund released the second in a series of white papers — COVID-19 and Factory Farming —providing policy recommendations to address industrial animal agriculture's role in our heightened risk for zoonotic diseases outbreaks, like COVID-19, and its potential to be the source of the next global pandemic.