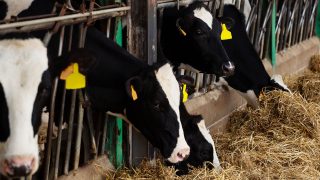 Polk County: Stop the Construction of Factory Farms!
This action is for Polk County, WI, residents only.
Your voice is urgently needed to stop the construction of a factory farm in Polk County. On July 8th, the Polk County Environmental Services Committee will consider whether to approve an ordinance which would allow for a new factory farm, also known as a Concentrated Animal Feeding Operation (CAFO).
Please email the Polk County Environmental Services Director and the County Clerk to express your opposition to having this kind of facility in your town. Instead, urge them to enact an ordinance with strict regulations designed to keep these cruel facilities out of your community.
Animals raised in factory farms suffer terribly, routinely confined to spaces so small that they cannot lie down comfortably, turn around, or spread their wings. Factory farms are also a major source of air and water pollution. They have no place in Polk County.
Using the form below, email the Polk County Environmental Services Director and County Clerk and urge them to share your email with the Environmental Services Committee Members. You can also testify to the Environment Services Committee at County Government Center at 10 A.M. Find more information about the meeting here: www.co.polk.wi.us/meeting
Join the Animal Legal Defense Fund's email list to stay up to date on lawsuits, legislation, and regulations affecting animals.
Sign Up Now
Related
Earlier this summer, the driver of a pig transport truck struck and killed longtime animal advocate Regan Russell. The circumstances regarding her death are not fully known to the public, but top to bottom, the animal agriculture industry is rarely held accountable.

A series of billboards, in English and Spanish, are launching near slaughterhouses across the country — offering an online tip portal where industrial animal agriculture workers can report any concerns. Joaquin Phoenix partnered with the Animal Legal Defense Fund in offering and promoting ReportAnimalAg.com to allow individuals to remain anonymous.

The Animal Legal Defense Fund announced that the U.S. District Court for the Northern District of California has denied the California Department of Food and Agriculture's (CDFA) motion to dismiss the lawsuit filed on behalf of Miyoko's Creamery (Miyoko's).