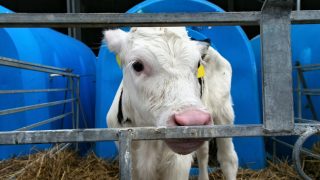 Oregon: Urge Legislators to Stop Mega-Dairies and Protect Cows
THIS ACTION IS CLOSED.
The Oregon legislature is considering SB 103, an important bill that would prohibit the Department of Environmental Quality and State Department of Agriculture from issuing permits for the construction of new industrial dairies – defined as concentrated animal feeding operations that have more than 2,500 cows or have more than 700 mature dairy cows and do not provide the cows with guaranteed seasonal daily access to pasture land – until the state creates protections to safeguard our communities and animals from their devastating impact.
The bill would also prohibit the issuance of permits to existing industrial dairies seeking to expand their operations.
Mega-dairies confine tens of thousands of cows in filthy, cramped conditions without regard for their well-being. These cows spend their entire lives in concrete and metal barns, milked until their bodies shut down. Then they're shipped to slaughter. To continuously produce milk, cows must be continually impregnated. Most of the calves born to dairy cows are considered a waste product by the industry and are slaughtered to produce veal.
Mega-dairies are also environmental disasters. These facilities store manure in giant lagoons that release large amounts of methane, a potent greenhouse gas, into the air. Improperly managed lagoons can be a major contributor to water pollution, endangering both wildlife and public health.
For example, Lost Valley Farm, a mega-dairy in Eastern Oregon, racked up a long list of permit violations, threatening local water supplies. After a lengthy campaign led by a coalition of environmental and animal protection organizations, including the Animal Legal Defense Fund, the state took steps to revoke its permit in 2018, and is now overseeing the shutdown of the dairy. But Lost Valley Farm is just the tip of the iceberg.
Mega-dairies don't belong in Oregon. Please urge your state legislators to support SB 103.
THIS ACTION IS FOR OREGON RESIDENTS ONLY.
Related
Court rules slaughter operations violate state animal cruelty and slaughter laws.

Advocates for animals, free speech and the environment take on secrecy at factory farms following victories in Utah, Idaho, Wyoming and Iowa

A dangerous bill, SB 1884, aimed at stopping whistleblowers from exposing animal cruelty is moving quickly through the Texas legislature. This bill has already passed the Texas Senate – your voice is urgently needed to prevent it from becoming law.
Help animals win the legal protections they so desperately need and deserve, and ensure they have an advocate in courtrooms and legislatures across the country.
Take Action Now