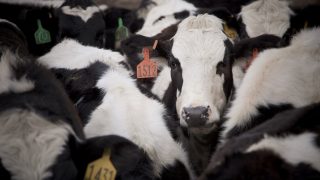 Oregon: Urge Gov. Brown to Say No to Proposed New Mega Dairy
This action is for Oregon residents only.
Mega dairies — large industrial farms that confine thousands or even tens of thousands of cows in cramped, filthy conditions — are harming Oregon animals, residents, and the environment.
These facilities cause significant animal suffering while also increasing water and air pollution; taking large amounts of water from rivers, streams, and aquifers; and contaminating drinking water. Already, Oregonians are standing up to demand a statewide moratorium on mega dairies.
But alarmingly, at the same time as state lawmakers and concerned residents are working to advance moratorium legislation, a new 30,000-cow mega dairy is attempting to move into Eastern Oregon.
The proposed new mega dairy, Easterday Dairy, has applied for a permit to operate at the same site as the infamous, now-shuttered Lost Valley Farm. After more than 200 environmental violations, the state shut down the Lost Valley facility. It's clear that Oregon doesn't need another mega dairy in its place — and it's time for Gov. Brown to stand up for Oregonians by denying the Easterday permit.
The Oregon Department of Agriculture and Department of Environmental Quality have temporarily paused work on the Easterday permit to consider the applicant's greater legal troubles and bankruptcy filings. Now, we need your help to shut this proposal down once and for all.
Please sign the petition below to urge Gov. Brown to say no to this dangerous mega dairy.
Dear Governor Brown,

As concerned Oregonians, we urge you to protect the state's residents, animals, and environment by denying Easterday Dairy's permit application to operate a 30,000-cow mega dairy in the state.

Mega dairies are inhumane to cows and cause significant air and water pollution, harming residents, wildlife, and the surrounding environment.

As you know, Lost Valley Farm, the mega dairy that previously operated on the proposed Easterday Dairy site, violated its water discharge permit more than 200 times and endangered residents and wildlife by contaminating air and water. Allowing another mega dairy into the state is far too risky, especially one whose operator has pleaded guilty to fraud which resulted in bankruptcy filings.

We respectfully ask you to take immediate action to protect the state and its residents by denying Easterday Dairy's mega dairy permit application. Please don't let Oregon become the next hotbed for factory farm production!
Join the Animal Legal Defense Fund's email list to stay up to date on lawsuits, legislation, and regulations affecting animals.
Sign Up Now
Related
Cows were killed in Madison, Brazos, and Robertson Counties, Texas.

The U.S. Court of Appeals for the Fourth Circuit handed an important win to plaintiffs in a lawsuit challenging North Carolina's Ag-Gag law, ruling that undercover investigations and whistleblowing are considered newsgathering activities protected by the First Amendment.

Public interest coalition celebrates another win against unconstitutional statute barring undercover investigations at factory farms