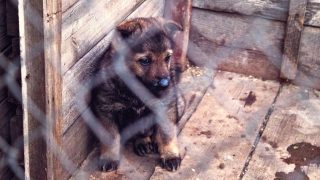 New York: Urge Your Legislators to Support the Puppy Mill Pipeline Act
This action is for New York residents only.
Earlier this week, the Puppy Mill Pipeline Act, S.4234/A.6298 passed out of the Senate Domestic Animal Welfare Committee by a unanimous vote.
The New York bill is part of the growing movement to fight against puppy and kitten mills, large-scale commercial breeding facilities that keep animals in poor conditions while mass-producing them for sale. Retail pet stores that sell live animals sourced from puppy and kitten mills (or from third party brokers who procure animals from these types of breeders) provide very little information to consumers about the origin of the animals. Federal standards for these facilities are notoriously lax, which has been an impetus to close the puppy mill to pet store pipeline.
You can send an email and/or call your legislators using the toggle buttons noted with the icons below. Phone calls have much more impact than emails. If you're able to make a phone call, please do so.
Related
Tips from the Animal Legal Defense Fund.

Animal Legal Defense Fund and CPM seek to hold Kenney family accountable for defrauding customers and harming dogs in violation of California law

Animal Legal Defense Fund and CAARE continue work to protect animals used in research