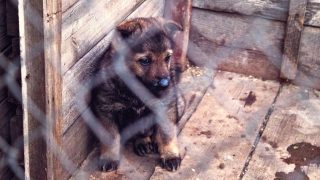 New York: Urge Your Legislators to Support the Puppy Mill Pipeline Act
This action is CLOSED.
Last month, the Puppy Mill Pipeline Act, S.4234/A.6298 passed out of the Senate Domestic Animal Welfare Committee by a unanimous vote. We now need to garner the same support from the Assembly Committee on Agriculture.
The New York bill is part of the growing movement to fight against puppy and kitten mills, large-scale commercial breeding facilities that keep animals in poor conditions while mass-producing them for sale. Retail pet stores that sell live animals sourced from puppy and kitten mills (or from third party brokers who procure animals from these types of breeders) provide very little information to consumers about the origin of the animals. Federal standards for these facilities are notoriously lax, which has been an impetus to close the puppy mill to pet store pipeline.
Related
As the Animal Legal Defense Fund combats dogfighting by working with state officials to create stronger laws and more effective penalties for those who engage in this crime, we're also hard at work to ensure the best possible outcomes for dogfighting victims.

The Animal Legal Defense Fund, the nation's preeminent legal advocacy organization for animals, and Humane Rescue Alliance (HRA) are offering a $10,000 reward for information leading to the arrest and conviction of the person or people responsible for the abandonment and stabbing of a senior-aged dog named Ladybell on July 12, 2020.

Today the Animal Legal Defense Fund announced a settlement agreement with the West Virginia State Police, State Trooper Seth Cook, and Colonel C.R. "Jay" Smithers, in a lawsuit filed after Tiffanie Hupp intervened when Officer Cook drew his gun and aimed it at the family dog, Buddy.