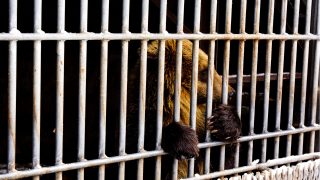 New York: End Cruel Circus Acts
This action is CLOSED.
Animals used in circuses lead lives of misery and indignity. Travel, confinement, and being forced to perform tricks deprive wild animals of satisfying their complex physical, behavioral, and emotional needs. Their lives constitute abuse as entertainment.
Additionally, many performing wild animal exhibitors have histories of federal Animal Welfare Act violations and dangerous public safety incidents.
Local and state governments are now passing laws restricting or prohibiting the use of wild animals in circuses and traveling shows. Six states and at least 160 other localities have passed legislation addressing the abuse of wild animals in circuses.
Related
Graphic images of wound are posted on Tik-Tok by an employee of Gator Park — a facility owned and operated by Jason Clay.

The lawsuit alleges federally endangered and threatened animals such as the tigers, lions, and ring-tailed lemurs are receiving inadequate care at Tiger Creek

Thanks to Animal Legal Defense Fund supporters, a tiger named Nila, two lions — Buddy and Missa, two ring-tailed lemurs, a Mikado pheasant, a military macaw, and a blue-and-gold macaw will at last have access to species-appropriate habitats and enrichment.