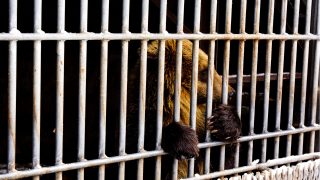 New York: End Cruel Circus Acts
This action is CLOSED.
Animals used in circuses lead lives of misery and indignity. Travel, confinement, and being forced to perform tricks deprive wild animals of satisfying their complex physical, behavioral, and emotional needs. Their lives constitute abuse as entertainment.
Additionally, many performing wild animal exhibitors have histories of federal Animal Welfare Act violations and dangerous public safety incidents.
Local and state governments are now passing laws restricting or prohibiting the use of wild animals in circuses and traveling shows. Six states and at least 160 other localities have passed legislation addressing the abuse of wild animals in circuses.
Related
The Animal Legal Defense Fund applauds the closure of the Greater Wynnewood Exotic Animal Park, the zoo depicted in the Netflix documentary, "Tiger King," following the U.S. Department of Agriculture's (USDA) suspension of its owner's exhibitor license.

After multiple lawsuits filed and fought by the Animal Legal Defense Fund, the Tiger Truck Stop has finally stopped exhibiting animals and tore down its cages. The Tiger Truck Stop, the infamous gas station in Gross Tete, Louisiana, held Tony — an endangered Siberian-Bengal tiger — from the age of 6-months until his death at the age of 17 in 2017.

Long-time Miami resident asks Senators Marco Rubio and Rick Scott to co-sponsor the Big Cat Public Safety Act