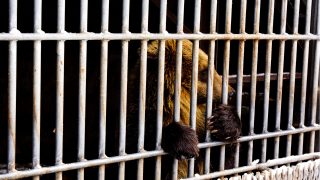 New York: End Cruel Circus Acts
This action is for New York residents only.
Animals used in circuses lead lives of misery and indignity. Travel, confinement, and being forced to perform tricks deprive wild animals of satisfying their complex physical, behavioral, and emotional needs. Their lives constitute abuse as entertainment.
Additionally, many performing wild animal exhibitors have histories of federal Animal Welfare Act violations and dangerous public safety incidents.
Local and state governments are now passing laws restricting or prohibiting the use of wild animals in circuses and traveling shows. Six states and at least 160 other localities have passed legislation addressing the abuse of wild animals in circuses.
A bill in the New York Assembly is poised for movement – now is the time for legislators to hear from you.
You can send an email and/or call your legislators using the toggle buttons noted with the icons below. Phone calls have much more impact than emails. If you're able to make a phone call, please do so.
Related
Long-time Miami resident asks Senators Marco Rubio and Rick Scott to co-sponsor the Big Cat Public Safety Act

Reforms emphasize coexistence with coyotes and other wildlife

Co-authored by Animal Legal Defense Fund, Joaquin Phoenix, Rooney Mara, and Glenn Close call on Congress to pass federal legislation