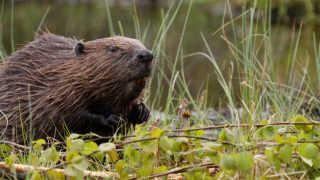 New Jersey: Urge Governor Murphy to Protect Wildlife
This action is for New Jersey residents only.
Legislation is being fast-tracked in NJ which would allow the Division of Fish and Wildlife to issue an unlimited number of permits to trap and kill beavers. It is already permissible to kill 1,000 beavers through the current system of 200 permits, allowing five beavers to be killed with each permit.
Non-lethal, humane solutions have been proven to be effective, such as using water flow control devises or "beaver bafflers," in addition to mesh cylinders or sand-paint mixtures which protect the felling of valued trees.
To stop this bill from being enacted into law, the New Jersey Governor needs to hear from you.
Call Governor Murphy's office: 609-292-6000. Phone calls have much more impact than emails. If you're able to make a phone call, please do so.
You can simply state your name and the town you're calling from and then say: "As a new Jersey resident, I'm asking the Governor to please VETO S3407/A2731 to protect the beaver population in NJ from unlimited trapping."
Send an email to Governor Murphy using the form below, urging the VETO of S3407/A2731 which aims to remove statutory limitations on the number of permits that may be issued by the Division of Fish and Wildlife for the taking of beaver for management and recreation.
Join the Animal Legal Defense Fund's email list to stay up to date on lawsuits, legislation, and regulations affecting animals.
Sign Up Now
Related
Animal Legal Defense Fund-led coalition wins major victory for animal protection, food and worker safety, and the First Amendment

Massachusetts is considering a number of significant animal protection bills this legislative session. The Animal Legal Defense Fund is supporting several priority bills.

Animal Legal Defense Fund Publishes 2019 State Ranking Report