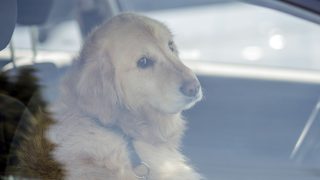 New Jersey: Protect Animals Trapped in Cars!
This action is for New Jersey residents only.
Every year, companion animals are in danger of dying because they are left in a motor vehicle that is too hot, cold, or has inadequate ventilation.
Even on a day when it is 70 degrees outside, the temperature inside a car with all the windows closed can hit 89 degrees in just 10 minutes, according to the American Veterinary Medical Association. On a hot day, the temperature inside a closed car can rise as high as 114 degrees in the same amount of time.
It's critical that New Jersey residents are empowered to protect animals left in vehicles.
Assemblywoman Valerie Vainieri Huttle's bill, A.4540, would provide immunity from civil and criminal liability to persons who in good faith enter a motor vehicle to rescue an animal from immediate danger. Please call your two state Assembly Members, then send follow-up emails, urging them to support and co-sponsor this important bill.
Call your state Assembly Members. If you're able to make a phone call, please do so as phone calls have a greater impact than emails. You can use this message: "As your constituent, I urge you to support and co-sponsor A.4540, to protect animals trapped in a motor vehicle."
After calling, please send a follow-up email to your legislators using the form below. Personalizing your message will help it stand out.
Join the Animal Legal Defense Fund's email list to stay up to date on lawsuits, legislation, and regulations affecting animals.
Sign Up Now
Related
As the Animal Legal Defense Fund combats dogfighting by working with state officials to create stronger laws and more effective penalties for those who engage in this crime, we're also hard at work to ensure the best possible outcomes for dogfighting victims.

The Animal Legal Defense Fund, the nation's preeminent legal advocacy organization for animals, and Humane Rescue Alliance (HRA) are offering a $10,000 reward for information leading to the arrest and conviction of the person or people responsible for the abandonment and stabbing of a senior-aged dog named Ladybell on July 12, 2020.

Today the Animal Legal Defense Fund announced a settlement agreement with the West Virginia State Police, State Trooper Seth Cook, and Colonel C.R. "Jay" Smithers, in a lawsuit filed after Tiffanie Hupp intervened when Officer Cook drew his gun and aimed it at the family dog, Buddy.