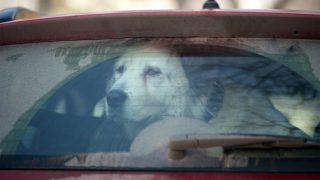 New Jersey: Protect Animals From Extreme Conditions In Motor Vehicles!
This action is for New Jersey residents only.
Every summer, as temperatures rise, so does the danger of companion animals dying because they are left in a hot car. Even though it is currently illegal to leave an animal unattended in a vehicle in New Jersey – if there is risk of injury or death – no one has the authority to intervene and immediately rescue the animal.
You can help change that.
Your voice is needed to urge your state senator to support and co-sponsor S1175. This lifesaving bill provides civil and criminal immunity to persons who in good faith enter a motor vehicle to rescue an animal if the person reasonably believes that the animal is in immediate danger.
The bill also requires that appropriate rescue personnel are contacted and a reasonable attempt to locate the owner or operator of the motor vehicle is made unless urgent circumstances make it too difficult to do so.
Please use the form below to send an email to your state senator today to ask them to support and co-sponsor S1175.
Join the Animal Legal Defense Fund's email list to stay up to date on lawsuits, legislation, and regulations affecting animals.
Sign Up Now
Related
As the Animal Legal Defense Fund combats dogfighting by working with state officials to create stronger laws and more effective penalties for those who engage in this crime, we're also hard at work to ensure the best possible outcomes for dogfighting victims.

The Animal Legal Defense Fund, the nation's preeminent legal advocacy organization for animals, and Humane Rescue Alliance (HRA) are offering a $10,000 reward for information leading to the arrest and conviction of the person or people responsible for the abandonment and stabbing of a senior-aged dog named Ladybell on July 12, 2020.

Today the Animal Legal Defense Fund announced a settlement agreement with the West Virginia State Police, State Trooper Seth Cook, and Colonel C.R. "Jay" Smithers, in a lawsuit filed after Tiffanie Hupp intervened when Officer Cook drew his gun and aimed it at the family dog, Buddy.