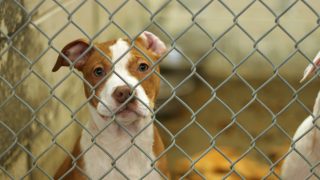 New Jersey: Allow Animal Shelters to File for Costs of Care for Animal Cruelty Victims
This action is for New Jersey residents only.
In animal cruelty cases, victims may be seized and held as living "evidence" in the custody of an animal care agency, such as a municipal animal shelter.
But caring for animal cruelty victims can be extremely costly — especially in large-scale or lengthy cases. Right now, in New Jersey, animal care agencies are footing the bill. For an animal shelter with a limited budget, the financial impact can be devastating.
New Jersey lawmakers are considering legislation that would fix this problem by enabling animal care agencies to file for critical funds to cover the cost of caring for animal victims. It would make a difference for animals and care agencies alike.
Please use the form below to send a message to New Jersey lawmakers, urging them to support A.2354/S.981. Remember, personalizing your message can help it stand out.
Please email your state legislators urging them to support this important bill.
Join the Animal Legal Defense Fund's email list to stay up to date on lawsuits, legislation, and regulations affecting animals.
Sign Up Now
Related
Cows were killed in Madison, Brazos, and Robertson Counties, Texas.

Goldie's Act would ensure the USDA does its job to protect dogs in federally licensed puppy mills

Alternative sentencing program in Fulton County, Georgia pairs shelter dogs with criminal defendants to offer both training and a second chance